Article published on 17 April 2014
Jack Potts and the Jetset at Casino.com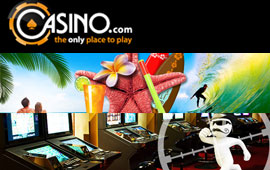 The Maple Gambling image gallery control requires that you have the Flash Player plugin installed and JavaScript enabled in your browser.
Casino.com is hosting some great online casino promotions at the moment. Canadian players will find that not only is it possible to win some great prizes, there is also a vacation up for grabs and additional bonuses when finding Jack! Players will enjoy both Jack Potss and the Jetset promos at Casino.com.
The Jack Potts Promotion at Casino.com
The WANTED: Jack Potts promotion at Casino.com is a fun and exciting way for players to earn bonuses. Players need to find Jack Potts in the casino to win prizes each day until the end of April. When Jack Potts is spotted, the players who spot him are given either a reload code or a bonus.
In order to find Jack Potts, players simply need to log into their Casino.com accounts, and when he has been spotted, he will have a bonus or reload code for the player. Each time players are awarded with bonus or reload codes from spotting Jack Potts, the prizes must be used on the same day.
As the Casino.com site notes: "This mission will self-destruct at: 23:59 (GMT) on Wednesday 30 April 2014," so players should make sure to take the opportunity to join in the fun each day for the rest of the month!
The Jetset Promotion at Casino.com
Jetset, Go! and you are on your way to a great promotion packed with prizes. There are two leaderboards in the Jetset,Go! promotion. This promotion is loaded full of prizes, including cash prizes, bonuses, reloads, and vacations. The vacation winner can choose either an action beach holiday where they get to ride the waves, or simply a relaxing and refreshing beach vacation.
While there are two leaderboards in this promotion, there is also the overall leaderboard, where 300 top placers are awarded great cash, bonus, and reload prizes from the huge $100,000 prize pool!
In the overall prize pool, the top three placers will earn $1,000 in cash, the 4th to 10th placers will take home $500 in cash, and the 11th to 20th placers will win $250 in cash. The 21st to 200th placers receive various bonuses, and the 201st to 300th placers are given reload bonuses of 100% up to $500.
In order to join in with this promotion, it is important for players to remember that they should opt in to the promotion. Then simply play, earn enough loyalty points, and watch your name climb higher and higher on the leaderboard. The Jetset promotion has begun and will continue until May 4th, giving players plenty of time to join in the action!